Our desire to find a new custom motorcycle has taken us all the way to Hungary. This Honda Cb750KZ aka Beast is the first bike to be featured on Moto Rivista from Boor Custom of Hungary.
Boor Custom is owned and operated by two friends Csongor Farkas and Krisztián Varga. At Boor Custom they build motorcycles based on reliable Japanese bikes, Boor Custom motorcycles are transitions between Cafe Racer and Dirt-track style machines.
According to Csongor Farkas " Have you ever dreamed about motorbikes as a child? What kind of rowdyism it would be to have one of the stylish ones and just shoot through the roads.We were dreaming about it a lot, we grew up but the dream did not disappear.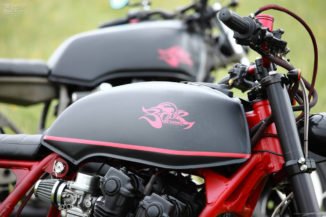 The building story started several years ago when we were wondering during our bike tours about the style of bikes which fit our vision and what we had in our minds for a long time. Amused by the style of classical English motorcycles and inspired by the age of the Cafe Racer, we decided to build two of them just for ourselves. We are so proud of our "creatures"!
The base for the build was a 1980's stock Honda CB750KZ that was stripped down to the frame. The stock frame was shortened and lowered to adapt the new style. At the front the bike features a Kawasaki ZXR 750 front fork, a Renthal Ultra Low handlebar and a Roob front headlight. At the back the bike features Marzocchi rear shocks, Roob taillight and a Triumph footrest.
The stock Honda CB750KZ engine has been fitted with Megatone exhaust pipes. The fabrication work includes a custom front and rear fender and a customized fuel tank. It has also got a customized seat, damper and break system. The battery was relocated and all the electricals were simplified to clean the look of the bike. The finished custom Honda CB750KZ rolls on 19-inch front and 18-inch rear wheels wrapped in Coker tires.
My personal favorite on this custom Honda CB750KZ "Beast" has to be the fuel tank and the use of matt black and red on the bike, an aggressive looking beast ready to tear down the streets Hungary!