Sportster XL 883 is one of the iconic models from Harley-Davidson, famous among skateboarders and young bikers.
Previously we have featured The Hookie's Yamaha SR 250 Woody. We have seen plenty of custom Sportster bikes but this one we are featuring is quite decent and called the Hookie HD Sportster XL 883. The Hookie have done  justice to this bike; it looks as you would expect a stock standard Harley-Davidson Sportster to look.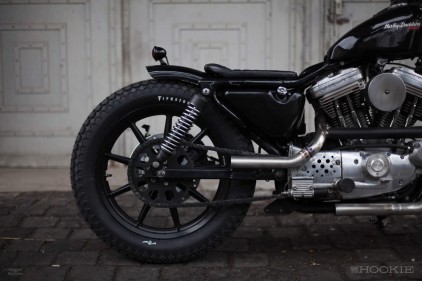 This Hookie HD Sportster XL 883 has a 869ccm Engine, new Keihin carburetor, retro style grips, new front head and rear tail lights and mini-signals. A mini- speedometer, brand new 38mm front forks, drag straight custom mufflers, a custom solo seat and hand fabricated rear fender. The Hookie HD Sportster XL 883 rolls on famous Firestone ANS front and rear tires.
At Moto Rivista we always try to give our readers bigger and better pictures since a 'picture is worth thousand words'. In this case The Hookie have those detailed pictures, please click on the large thumbnails to launch the gallery and see this beautiful Sportster up close.
Overall this bike looks like what an ideal Sportster should look, enough ground clearance and no more scraping of those sexy exhausts.