For all those who eat, live and breathe Ducati, Benjie's Cafe Racers has just the right recipe for your taste. The latest creation a custom " Ducati Monster S2R 800 Tracker " breaks the traditional boundaries of

BCR

(Benjie's Café Racers) bikes.
If you know Cafe Racers than I am sure you know Benjie Flipprboi? Well for those who don't his latest creation a "Ducati Monster S2R 800 Tracker " will leave you thunderstruck. BCR is all about vintage café racers and goes beyond the borders, creating vintage café racers out of old Japanese and British motorbikes.
BCR also offers bolt-on original custom cafe parts for the do-it-yourself motorcycle hobbyist. All BCR parts are original designed hand crafted from scratch by either using sheet metal, fiberglass or carbon fiber.
Now that was about Benjie, lets find out about his " Ducati Monster S2R 800 Tracker ". BCR always wanted to work on something contemporary, the build started out as a 07 Ducati Monster S2R 800. Benjie used it for daily commuting but it didn't take him long to get bored with the stock look and stock sound of the exhaust.
At first BCR was going to follow their traditional Café Racer root but later decided to attempt something different for a change. BCR decided to take the bike apart and transform it into a Tracker / Urban scrambler with a little steam punk flare. After stripping down the bike to the frame BCR realized the bike looks really nice without the huge tank and a wide seat. This lead BCR to make the bike as narrow as possible and thus making it look like old school trackers.
The fuel tank was probably the biggest challenge during the build. To get that narrow look, BCR made a gas tank under the seat and made it run all the way to the back of the bike. The gas tank was made out of aluminum and shaped to follow the tail part of the stock Monster trellis frame.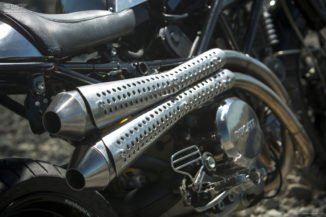 Since the bike was going to be tracker style look, BCR covered the front end of the bike with flat aluminum and shaped it like a MX number plate. To use the bike on the street BCR also added a small headlight fitted with an aluminum headlight ring. To get the tracker theme-going BCR opted to make a 2 into 2 high side exhaust, the entire exhaust is made of stainless with aluminum heat shield.
The fenders are made with fiberglass and are fitted with a lightweight fender frame. For the rear fender, BCR wanted to mount it like an old school British Scrambler, BCR also added a hand hammered aluminum taillight. The stock bars were switched with Pro tapered bars with a medium lift and the foot pegs on this Ducati Monster S2R 800 Tracker are made of stainless shaped MX style, but with less aggressive teeth.
The stock engine didn't go through any modification other than cosmetics. The 800cc monstrosity is more than enough for what BCR had in mind. The cosmetic work on the engine includes polished  engine side covers, valve covers and cam end covers adding the old school look. BCR has also added a power commander to compensate for the modified free flow exhaust and air pod filters.
The finished bike is a great example of Ducati monster transformation. The stock Ducati Monster S2R 800 is now lighter, narrow, and a lot easier to handle!