If there was an award for a hybrid invention I would hand it over to Radical Ducati for their latest creation a custom BMW R90 Interceptor. It's not an attempt to create something you might see elsewhere; this bike is one of a kind.
The sky might be the limit for you and I but Radical Ducati just keeps pushing it further. The Spanish Radical Ducati and their RAD KIT is a household name in the custom Ducati world.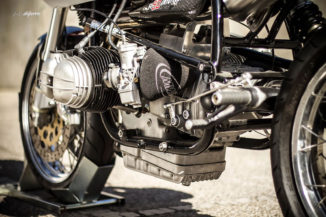 This custom BMW R90 Interceptor build was a joint venture between Radical Ducati and Max Boxer. Max Boxer played their part by super tuning and rebuilding the R100 engine, while Radical Ducati was tailoring the rest.
The Max Boxer tuned R100 engine sits on a modified BMW R80 ST frame with reinforced tubes. The engine modification includes a crankcase reduced to the minimum and upper positioned on the frame providing the bike more ground clearance. It was lightened, blueprinted and adjusted, the cylinder heads were modified and the gas-flowed heads feature bigger intakes and big valves. The exhaust system is a 2 in 1 SuperMario fitted with a BMW S1000RR silencer.
At the front this custom BMW R90 Interceptor features Ducati Monster yokes, Ducati Sport Classic fork, Tomaselli clip-ons and a 17-inch Ducati Sport Classic spoked front wheel. At the rear the bike includes Monolever swing arm and R100RS Monolever bevel box and Paralever modified (17 inch) rear wheel.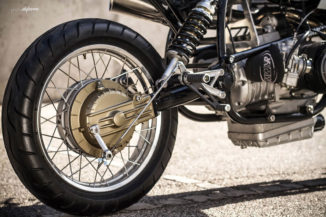 The braking component features Ducati Monster 900 rotors, Ducati Sport Classic Discacciati calipers kit and Ducati Monster 900 brake pump. Lets not forget the key ingredient of Pepo's creation the carbon fiber RAD front mudguard and modified carbon fiber RAD 02 Montjuich solo seat. The fuel tank is a modified Laverda and the front faring is a Pantahstica.
The electrical work features racing wire, LIPO battery, silent Hetkit electronic front crankshaft ignition with 16 mappings and electronic regulator.
This bike has been modified beyond my understanding, and that just shows how much I have to learn from builders like Radical Ducati. I am thrilled and excited just writing about this custom BMW R90 Interceptor, I can only imagine the feeling of owning and riding this!
Watch out on the road for Interceptor!
Check out the other featured bikes from Radical Ducati.