Cagiva Ala Azzurra, at first I thought it was some Italian pizza joint. But soon I realized my knowledge about Italian classic motorcycles was limited, I bet I'm not the only one who had never heard of this brand up until now!
This Italian custom bull has been raised and hand crafted by Venier Customs. This custom Cagiva Ala Azzurra aka Sputafuoco (spitfire) is an excellent example of a radical transformation of an Italian classic. When I looked at the picture of the bike I was a bit confused about the brand. You see the engine of this bike has a Ducati stamp on it but it's called Cagiva Ala Azzurra. To clear the confusion lets get some flashbacks from history.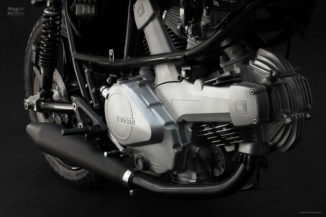 "In 1978 Cagiva sourced four stroke Ducati V-twin engines ranging from 350 cc to 1000 cc. Later in 1985 Cagiva bought Ducati but decided to keep Ducati's name due to it's iconic global presence. Cagiva motorcycles were known for their good balance between style, technique and price."
Back to Venier Customs Cagiva Ala Azzurra. According to Stefano " This Cagiva Ala Azzurra was my very first design even before the Diabola and because I was still interested in it I decided to make it happen. A little tired of the usual cafe racer and special bikes that are becoming all the same, made with the exact same process I wanted to try something a little different, and I actually like the bike that came out.
The biggest challenge with this build was to make sure the bike would came out elegant and aggressive at the same time, designing something that was not the usual skinny seat, pipe wrap and fat tires".
The Venier Customs build is an interesting infusion of a 1984 Cagiva Ala Azzurra and a Ducati Pantah TL. The stock 350 Cagiva Ala Azzurra engine features a custom exhaust and sits on a Ducati frame. The fuel tank and the sides are from a Ducati Pantah TL. At the front this bike features a headlight from a Moto Guzzi Stornello, which is fitted with hand-fabricated brackets. The vintage bars are from a Benelli 354 with superbike grips and original throttle. The front suspension is from Marzocchi while the rear is from Bitubo. The seat was upholstered in house with an Italian flag on it. The wheels are stock wrapped in a pair of Dunlop tires.
"I like the fact that it is a small and fast bike, really fun to drive, you won't be disappointed at all with the small 350cc engine."