Who doesn't like a German classic BMW r25/2 Steib sidecar, but liking is one thing and riding is another. Once you add a sidecar to a motorcycle it doesn't ride like one, it's a dangerous mix for amateurs.
To ride a motorcycle with attached sidecar you have to respect it's steering technique and understand the unequal weight distribution.
This remarkably restored European classic was sent to us by Milan Stojanovic of Leskovac, Serbia. It's not the first time we have featured Milan Stojanovic's work; previously we featured a Custom BMW R75/5. Restoration and modification of classic BMW motorcycles is a hobby shared between Milan Stojanovic, his brother and his father.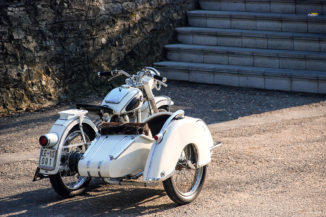 Milan tells us "It is the second generation of the R25 model, the bike is from 1951 and the sidecar is a Steib LS200 from 1950. My father and I found the bike 3 years ago and took it apart, then we ordered all new parts for the engine, and every little thing for the frame, wheels, and other accessories. Then one day my father and I went to a farm to see a side car, the old man who has it was a racer years ago with BMW's but now he has made a chicken coop from the sidecar.
We took it and completely restored it too. Then when we finished all the mechanical part's, we had a serious discussion about the color of the bike. We didn't want classic black because in those times everything was black,  we agreed to make it a light color. Every screw on the bike is original RIBE (that is the name of factory who make screw's for BMW), we even made sure every rubber part on the bike was Magura and Denfield. It took us all of 2 years to restore it in it's original shape."
Special thanks to Milan Stojanovic for sharing such a wonderful restoration with us!

Engine

Internal Designation: 224/3
Motor Type: Four-stroke single cylinder vertical
Bore x Stroke: 68 x 68 mm (2.67 x 2.67 in)
Displacement: 247 cc
Max Power: 12 hp at 5,800 rpm

Compression Ratio: 6.5 : 1

Valves: OHV

Carburation System: 1 x Bing type 1/22/44 or SAWE type K 

Engine Lubricating System: Forced feed lubrication

Oil Pump: Gear pump

Chassis

Designation: 225/2

Frame: Closed steel twin loop frame, welded

Front wheel suspension: Telescopic fork

Rear wheel suspension: Pushrod suspension

Wheel rims: 3 x 19 deep bed 6 / 27 teeth (with sidecar 7 / 36)

Tyres, Front: 3.25 x 19

Tyres, Rear: 3.25 x 19

Brakes, Front: Drum brake 160 mm / 6.29 in diameter

Brakes, Rear: Drum brake 160 mm / 6.29 in diameter

Power Transmission

Clutch: Single plate, dry

Number of Gears: 4

Shifting: Foot switching (+ auxiliary manual switch on gearing block)

Gearbox Ratios: 6.1 / 3.0 / 2.04 / 1.54

Bevel/Crownwheel: 4.5 :1 (with sidecar 5.14 :1)