One motorcycle model in particular, the Triumph Bonneville has always managed to captivate the custom motorbike builders and enthusiasts around the world.
Spanish custom motorbike builder Café Racer Dreams has been rolling out some amazing custom Triumph motorbikes. For todays feature we are taking a look at their custom 2009 Triumph Bonneville aka Corsair Project.
Many of the bikes Pedro has built goes beyond the Spanish borders which shows the demand for CRD's work in Europe. In order to kick-start the build of Corsair Project, Pedro had to understand the owner's ideas through the e-mail conversations. The idea was to build a muscular motorcycle, which prevailed the black and had the essence of HD.
According to Pedro "Many times people don't know how to express what they want you to do, for example they send you pictures to tell you what you have to do. But what the picture is telling you is different to what they actually mean." Pretty frustrating but I guess every job comes with ups and down.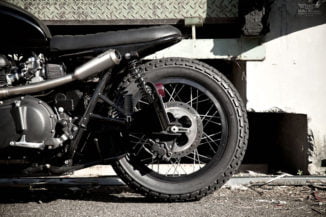 Since the owner Juan was quite keen to keep the exhaust on the top, CRD handmade a custom 2 in 2 CRD exhaust system. Looking at the picture you may think it's pretty close to the burn zone. But according to Pedro "The exhaust system does not burn, and dare I say it heats less than the original exhaust system of a modern Triumph Scrambler." The stock 2009 Triumph Bonneville engine was also fitted with a K&N air filter.
The next was the chassis and suspensions, where the bike takes the final character. The back of the chassis was shortened and the suspension travel was chopped. The black rims and fat tire took place to bring a muscular look to the build.
At the front this custom Triumph Bonneville features Renthal ultra low handle bar and a bobber style headlight. An 18-inch Guzzi style front and rear wheel both wrapped in Dunlop k 180 tires. Other fabrication work includes CRD aluminium battery case and a CRD upholstered custom seat.
Another aggressive looking Triumph Bonneville, CRD has managed to translate every desire of its owner on the build of this muscular beauty. I am sure Juan would be having loads of fun blasting off this beast on the streets!
Check out the other featured bikes from Cafe Racer Dreams.