Cory Hebert is the name behind

Maindrive Cycle

a one man custom shop in Lucas, Texas. Maindrive Cycle prides itself on being devoted to no-nonsense, traditionally styled custom motorcycles.
The bike we are looking at today is a 1977 Kawasaki KZ400 built for Andy, and was the first attempt at a Japanese bike for Maindrive Cycle. According to Cory "Andy was not into the American v-twins I normally built, and wanted a street tracker, a street bike that had a slight flat tracker influence"
The build started with Cory stripping down all the parts from the Kawasaki KZ400. The Engine and every part of the 1977 Kawasaki KZ400 was cleaned and re-finished by Andy including the nuts and bolts. For the exhaust Cory used the factory header pipes and chopped off the mufflers and welded on aftermarket Harley muffler from a Big Dog exhaust system.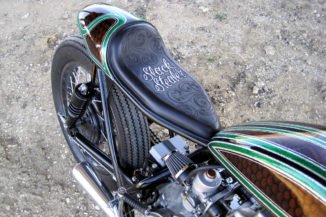 According to Corry" I fought Andy pretty hard on the gas tank. I was pretty insistent that the bottom of the tank be in the same place as the seat, but he was having none of it. He really had his heart set on a heavily modified sporty tank"
So Cory started chopping from the bottom of tank, since the backbone had that hard curve near the seat, fabricating the tunnel was not an easy job. The next step was tank-mounting tabs, which were welded to the frame with thick leather washers for cushioning. Once the tank was mounted it hides the backbone perfectly. Cory had never fabricated a Cafe Racer rear cowl before but looking at this one, I believe he has done a fantastic job.
On this Kawasaki KZ400 Street Tracker Cory has done some serious fabrication; our personal favorite on this bike is the frame gusset that Cory cut a hole out of for the key switch. This is designed to eliminate the starter relay, cleaner wiring and no start button just twist the switch and off you go. Cory also built a battery box and mounted the starter solenoid to it, and mounted the breakers to the front which is the perfect location for them as it will help with the internal wiring in the backbone right above.
Another nice little fitting is the horn below the battery box, the voltage and rectifier were hid under the rear cowl. This Kawasaki KZ400 Street Tracker also features single-shot tail light from Fab Kevin, and pair of old school Firestone tires. Scott from Backstreet Buckets did the paint job on this beauty.
The end result is beautifully built custom Japanese Street Tracker; which is apparently an absolute blast to ride.