Today's feature bike a 1950 Motoconfort D45 is something a little different. When we saw the bike we liked it, then we heard the story and we thought damn that's cool as hell! Tell us at the end if you agree?
Alexis Le Naour (photographer for Sur Les Chapeaux De Roues) tells us " I decided to sell my honda cb twin because I wanted to get something more powerful. Someone from Paris called me a few days after I had already found a buyer, and he asked one question "Does it leak oil?". I told him the bike was already sold and asked, why this question? "It's just because I love it, but I don't want to ride it, I want it in my living room!"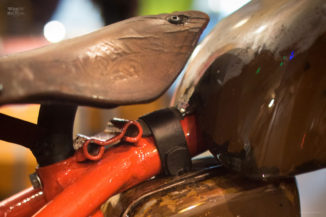 All right, maybe a bit strange, but if he wanted to spend money on a bike, I told him to contact Manu and Yann from Sur Les Chapeaux De Roues and see if they can build something for him.
So he met the guys at an old car/bike show in Paris, where Manu and Yann showed the Motoconfort z56c, which belongs to the owner of our local tattoo shop. Same story here, "I want to buy it, and I won't question the price" (even if at this point the bike had no engine, and was only half over).
So the guys told him "Give us one month, and we will have something for you", and that's how this old 1950 Motoconfort D45 (it's an old French bike manufacturer) come to life (again!).
It's not a working bike, even if the motor is not broken?, but they didn't open it, and didn't put in a throttle or electrical wires (they know how to do it by the way, the one for the tattoo shop is fully functional).
From the start they wanted to give it a board-track look, with a small low seat, big tire, and a bull like handlebar. The engine was sandblasted to give it a cool soft grey metal color, and an exhaust was made from a copper tube.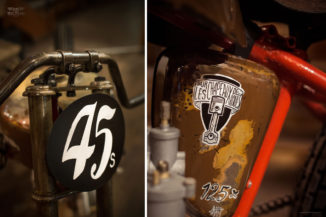 Yann worked a lot on all the small details of the paint, making an old school look logo, and small jokes (you can see on the tool box "même pas peur" "not even afraid"). The tank is a mix with old original paint and raw metal; they chose to put the frame in a different color to show it more. With the white cream wheels, it makes a beautiful mix. And the final touch came from the front plate with a nice handwritten "45" remembering the name of the bike.
We took the pictures in a cool local wine bar where the owner allowed us to bring the bike, if you ever take a ride to South Brittany, stop by "Chez Chouchou" in Quimperlé. Next time the guys said they will try to put a small 125 or 250 cc mono engine from a recent bike (from the 80's) in a frame like this, to give it new life".
We are just a little bit jealous that some guy in Paris has this in his lounge room, what's the coolest thing you have in your house?