The Triumph Scrambler is a true representation of Triumph Motorcycles classic era; this bike demands attention where ever it goes. Our Italian friend Mr Martini has taken a unique approach in restyling the last Triumph creation of designer John Mockett.
This special Triumph Scrambler aka "PoP" is the most obvious example of the freedom of spirit that bikes usually offer (especially the Scrambler model), transferred to the mind and also to Mr Martini's psychedelic pop fantasies!!!!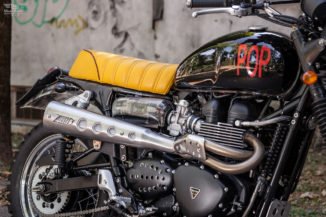 I personally love all of Mr. Martini's creations but the feature of the day has in my eyes made it to the top of the list. In my travel plans to Italy Mr. Martini is one of the places I would be drooling about.
Based on one of the most legendary Triumph models, Mr Martini worked out again with style and experience the unique off road 70 years charm. Over the years Nicola has selected technical and aesthetic components to give to the Triumph scrambler a more marked look and higher performance. 70 year fenders, new colors and a handmade saddle coated with old leather, which comes from a jacket found in a flea market.
The rear frame is shorter and features Öhlins shock absorbers, the ratio are shorter and the exhaust is created and designed by Zard specifically for Mr. Martini.
What you read above are Mr Martini's Triumph Scrambler transformations. The real deal is this unique approach which I have never seen before, what am I talking about you ask? Here's Nicola to break it down.
"Who would have ever invented to recycle the old yellowed pages of "The Times" encapsulated in composite materials (a particular type of fiberglass) to create the fenders and side panels. And then match a yellow bright handmade saddle contrasting with the black tank on which stands the word POP-made by Matteo (Nicola's son).
We have already received requests from customers who want souvenir pages and photos to carry on their bikes. The PoP displayed in the shop window recently is also collecting a resounding success. The bike, personalized, becomes unique, a mix of modern technology on a soul full of style and personality".
Special thanks to Mr Martini for allowing us feature his custom Triumph Scrambler, PoP, to find out more about Mr Martini's builds please visit his website.