Fans of Cafe Racer TV would have already seen this Rev'It Seeley Norton Commando – Formula 750 Racer'. A bike as nice as this one deserves more than one look!
The build was commissioned by Dan Rose and Rev'It Leathers and completed by Kenny Cummings from NYC Norton. Kenny Cummings is a four time AHRMA National Champion Racer who has been building his own racing bikes for years. This eventually led him to open his own shop NYC Norton where he offered his services to a select few customers.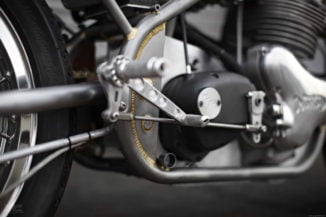 The project idea was to assemble a period bike from a long list of custom parts, with the goal of not only making it onto the track but also winning by the end of the year. The bike goes well beyond the Café Racer, and is truly a competition motorcycle. I am not sure if this article can handle the build details of Rev'It Seeley Norton Commando but we will try our best!
Roger Titchmarsh, a frame maker with over 20 years experience was commissioned to construct the Seeley MKII frame, he is the one and only man with permission from Colin Seeley to replicate Seeley chassis. The entire frame is almost made out of 17 gauge Reynolds 531 tubing and weighs just 24lbs (10.9kg) including the bearings, bushings, and chain adjusters. The end result is a handcrafted frame that is really a work of art.
The craftsmanship on this Seeley Norton is astonishing and the detail of this bike is limitless. At the front the bike features Excel polished alloy shouldered 18″, WM3 wheel and the rear wheel is 18″, WM3 both laced by Kenny with Buchanan's stainless spokes. The front hub is Norvil racing 6-bolt to accommodate twin disks and the rear hub is a Triumph T160 4-bolt fitted with Dual AP Racing Calipers and 70s era Brembo master brake. The front sliders are Norvil as well, with cast-in caliper holders.
For the race suspension, Seeley Norton follows the conventional method to stay within the vintage racing rules, but has been heavily modified by Chris Cosentino of Cosentino Engineering.
The heart of the Norton Seeley is packed with incredible amount of details, the Norton Commando 750 motor is built up with Steve Maney Racing parts and JS Motorsport internals. The head was pinnacled with Fullauto Technologies 850cc head with 33mm inlet ports and fitted with D-shaped exhaust ports. The Gearbox is TT Industries magnesium 6-speed drum-selector cassette-style gearbox in AMC (stock Norton) style shell. The finished REV'IT weighs just under 300lbs (136kg) and produces around 70hp, enough to keep you ahead on the track!
After it is all said and done it's safe to say 'mission accomplished' with the 'Rev'It Seeley Norton Commando – Formula 750 Racer' not only making it onto the track but also coming away with the win at Daytona 2011 with Maria Costello on board!