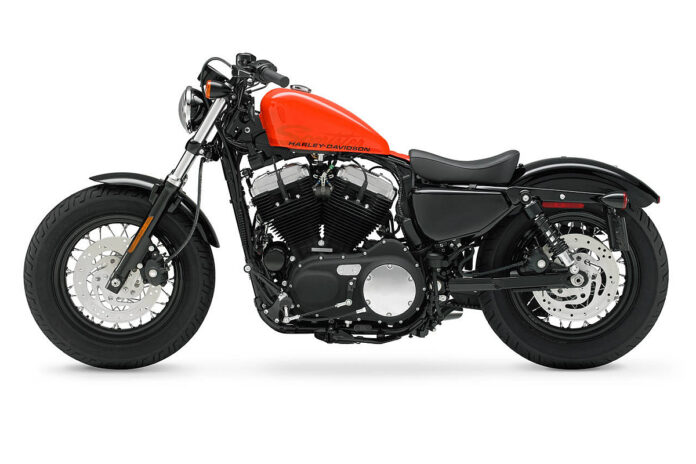 Harley-Davidson's dark customs— which include the Nightster, Iron 883, Cross Bones, Fat Bob and Street Bob— offer factory custom style across the H-D lineup by adding aftermarket-style details to Harley's standard issue bikes.
The latest to receive the dark custom treatment is the Sportster 48, whose numerical model name was inspired by the year its so-called peanut tank was minted.
The Forty-Eight boasts chopped fenders, slammed rear suspension, a low profile handlebar, and lightening holes on the fork brace and tank mount— though its spec sheet reveals those features don't really do much beyond look cool; running weight for this low slung bad boy is 567 pounds.
Despite its tonnage, sliding a leg over the 48 is far from intimidating, thanks to its diminutive size. The big v-twin fires up with Harley's great sounding thrum, and the moment you reach for the right and left grips, it's easy to feel cool; there's something about this bike's low profile and forward controls that exude swagger, and those underslung mirrors actually work surprisingly well. However, its hunkered down stance leaves only 1.63 inches of rear suspension travel— the same as the Nightster—which translates to a jarring ride in concert with the rock hard saddle. That 2.1 gallon tank might also cramp your riding style, necessitating frequent gas stops and more aggressive fuel management techniques.
Clutch takeup is rather abrupt, and the bike's urgent low end torque and tall gearing produces swift forward motion. Grunt peters out towards the upper registers of the powerband (which you'll have to guesstimate, due to the lack of a tachometer), and vibes can escalate considerably at the footpegs. But shift early enough, and the copious torque enables you to hoon it up rather nicely, thank you very much.