We were very interested to learn more about today's feature bike when Rob from the UK contacted us with his latest build. Its a Husqvarna TE610 enduro which has been transformed into a Cafe Racer, and the first we have seen on Moto Rivista.
It has been built in Rob's garage with limited tools, the result is pretty special if you ask us. Here's Rob to tell us the story of his build "This custom Husqvarna TE610 enduro started life as a full Husqvarna TE610 enduro (577cc) but after several years I'd had enough of green laning so I decided to turn it into this machine. I started the build in the summer of 2003 while waiting for my son to be born!
I got on quite well but then my interest waned somewhat and it sat untouched in the shed for years. Same old story hey? then in the winter of 2010/2011 I got my interest back and nearly got it completed but interest waned again. I finally finished it in March 2012 after I kicked myself up the butt so to speak!
The front frame loop is standard as are the yokes and forks (lowered). The rear frame is constructed using mild steel tube and is built around the tank. The seat and shocks (Hagon), the front wheel was relaced with stainless spokes and an 18inch rim. The rear remained standard and the tires are Bridgestone. Self built are the clip-ons, mini fairing, mid section of exhaust, all foot controls, hangers. and tailight/number plate hanger and the radiator is a Husaberg 400 item from an auction site.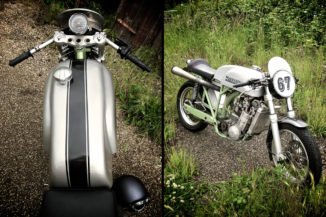 The brakes are standard, front mudguard is Harley, mudguard bracket and stay are shed built. The exhaust is Supertrapp, rear sprocket is custom made (expensive) to change final gearing as much as possible for top speed and finally the sidestand is shed built.
Basically the whole bike was shed built with stuff and materials I had or sourced like the tank and seat from Unity Equipe. As I said in earlier emails its not a show winner and may show some road use scars in photo's and also some road grime. I'm not into shiny show bikes built by pro's as these are mostly out of reach by the masses, the bike fly's along as long as revs are kept high and will do about 120 mph on the tank. Although it's best suited for back roads and twisty roads and does actually handle well, the bike weighs in at 122 kilos wet and has about 55bhp!
Although the build took a long time from start to finish, Rob definitely got there in the end with his custom Husqvarna TE610 enduro Cafe Racer.  We love the finished bike and thank Rob for showing us something different and allowing us to showcase his build.