The custom motorcycle scene in Italy is full of surprises; every now and then we encounter something special. Today we are taking a look at Moto Sumisura's custom BMW Motorcycle aka La Deuxieme.
Moto Sumisura is located in Pavia, Italy and is the work of Franco (Frank) Augello. The story of Moto Sumisura and their custom creations might have been established 2 years ago, but you could say it was born many years ago. You see Frank has spent nearly his whole life riding motorcycles, beginning when he was just six. Whilst he has always had a love for BMW motorcycles, the pleasure of having a custom tailored bike that can accompany you to unique moments of freedom is something, which couldn't be denied.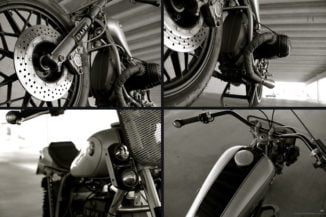 Inspired by watching the construction of a tailored suit to create its brand, Frank is not a mechanic who assembles motorcycle parts but, as has been rightly defined by a skilled artisan, is "a sensitive and humanistic care of the two wheels." Frank says he finds old pieces of junk and uses them to make up his creations. This was the concept for the build of this custom BMW motorcycle 'La Deuxieme'. The bike is simple and suitable to anyone, even those without experience and for those who will appreciate the uniqueness.
Built with a BMW R45 frame for superior handling and powered by a good old BMW boxer R80/7 engine. This custom BMW motorcycle is enriched with historical components from a BMW r25/3 HD. It also features a R100 5-speed transmission; both R65 wheels are 18-inch wrapped in Michelin M45 tires. At the front the bike features a R65 fork while the rear houses adjustable Bitubo shocks.
Frank and his beautiful creation outline the quality of Italian craftsmanship. The finished custom BMW motorcycle 'La Deuxieme' has a vintage look and projects the unique approach by Frank. We will keep a close eye out for more Moto Sumisura creations!