The Gasbox in Cleveland, Ohio is run by Jesse Bassett and specializes in custom fabrication and vintage motorcycles. Jesse Bassett's aptitude for motorcycle crafting and metal fabrication comes from 12 years experience with engine work, repairing, restoring and customizing, Jesse has it all.
The feature of the day a '1965 BSA Lightning' was a winner of the freestyle class at the Ultimate Builder Custom Bike show in Cleveland.
Jesse began the 1965 BSA Lightning project in 2009, when one of his customers brought in a rigid chopper to be customized. After dissembling the entire bike all that was left was the engine, frame, and stock BSA QD rear wheel.
Jesse's customer Brett Scully wanted to have a girder fork, so he found one from a BSA M-20. He had to fabricate a new top clamp, neck stem and new linkage. Jesse used antique faucet handles for the friction ride control because of the look of the porcelain and brass. By adjusting the rake, offset and height of the fork he was able to obtain the correct frame stance.
The rear wheel is stock BSA 18" powder-coated black with stainless spokes and Coker tire. The front wheel is a thirty-six spoke 21" laced to a BSA Bantam hub and Avon tire. Both front and rear drums were windowed out in the mill, then the shoes were drilled.
The fuel tank began as an oil in frame Triumph item that has been chopped and fitted with late model Harley style rubber mounts. Jesse found a local die maker to duplicate the BSA golden flash emblems and cast them in bronze for the tank. Jesse fabricated the oil tank from scratch, then fitted with the cap and fittings of a 1960's BSA stock item and rubber mounted.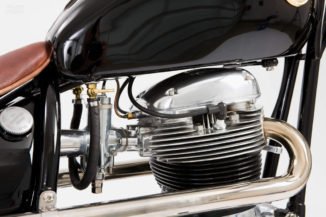 The entire engine was disassembled and polished and the sludges were cleaned. The notorious BSA crank bushing was upgraded and cylinders were fitted with the next size over 9:1 compression pistons. Jesse fabricated the exhaust from stainless steel and styled it after the BSA high scrambler pipes. All of the electric was upgraded to Boyer.
The handlebars were made to act as part of the top clamp for the girder and the levers are Cook replicas of pre-war British bikes. Both the grips  and seat are made of the same leather. The headlight is a fender light from an early MG and had to be modified to adapt to the girder.
The paint is black with gold-leaf and red striping by Jerry Koenigsmark of Jerry's House of Kolor. The leather work was done by Jason's Custom Upholstery. All of the polishing and nickel plating was done by Jason's Show Quality Metal Finishing.
We love every thing about this custom BSA Lightning and it's amazing details. Over customizing would kill this beauty in no time, with power comes responsibility and Jesse knew exactly when to stop and finish this build!