Previously we featured a bobber from Saint Motor Company 'Saving Grace', today it is something different which has caught our eye! We are talking about this sweet 'BSA 500 Cafe'.
The base for this Café Racer build is a bit of a rare find, in stock trim this BSA 500 SS was a dual purpose bike, scrambler pipes, knobbies, high fenders, aluminum tank, long fork, etc. When Jeff got this bike somebody had gone through the motor and already started to change the front ends to a Triumph unit with larger brake and a bit more style, but the project was never finished. According to Jeff' there was no bodywork done on this bike.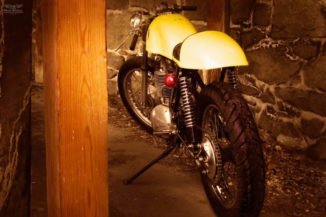 The original tank was a dirt bike looking aluminum one; one of the first things Jeff had to do was find a different gas tank that looked right for this build. Jeff acquired a Benelli gas tank that he really liked; it was a new old stock tank that was still in the box after 30 years.
Jeff tells us one of the reasons the bike looks so good is because he lengthened the swingarm a bit to get the rear wheel back away from the frame. The seat pan was made from scratch; Jeff also made a bodyline around it which matches the tanks line at the bottom.
The battery and the regulators are hidden under the rear cowl and the electrics are hidden in the tunnel. Making the seat for this café racer was Jeff's first attempt at upholstery, but looking at the picture it is clear Jeff has done a fantastic job.
This Café Racer is a clean build with a lot of hours spent over a short period of time; the end result is a beautiful bike with great lines which looks super light and would be an absolute joy to ride around town!