The man behind Red Max Speed Shop Hampshire, UK is Steve Hillary. He has been around bikes for most of his life and has done a little bit of everything including Drag Racing, Supermoto, Enduro, Sidecars and on and off road racing. Steve is mostly interested in twins and singles especially four strokes with a few exceptions.
This custom Sportster was built for Racy Rach who approached Steve at 'Red Max Speed Shop' and asked him to build her a Cafe Racer. After doing some research Steve decided he would base this build on a Harley Davidson Sportster. According to Steve 'she had to have a 1200cc and we wanted a clean late one, so this 2005 seemed perfect for the job'
The build started with a donor Harley Davidson Sportster , Steve used a disc cutter to remove loads of surplus crap and grind-ed off all the bits he didn't like. He also chopped off a foot of the rear frame weighing 30kg, which was replaced with a heavy-duty sub frame.  The seat cover was done in-house retro popper in brown suede, spondon clip-ons, and Triumph spitfire air filter. The bike rolls on Akront flanged rims and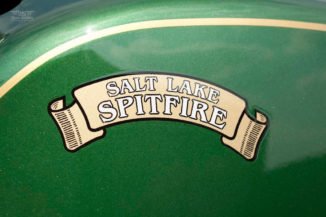 stainless spokes wrapped with Avon roadrider tires. The bike also features a set of adjustable Hagon rear shocks, which is made with the right spring rate – perfect for Rach. Steve also added a Supertrapp exhaust and a Manx short-circuit tank, which was painted in Metallic green with retro style tank decal saying "Salt Lake Spitfire'.
Red Max Speed shop has built this bike with true Cafe Racer Style. This Cafe Racer is simple, elegant, lightweight and with a great riding position. The beautiful paint job on this bike is our favorite, Racy Rach must be enjoying riding this beauty!