The feature of the day is  'Riviera' Ducati SS, a fusion of modern and classic built by master craftsman Walt Siegl. Walt Siegl a native of Austria left art school in his teens to pursue a road-racing career.
He then went on to work in France, Germany, Austria and Italy before a job at an Austrian steel company took him to Moscow and he later joined the Austrian Foreign Service. He then transferred to New York City and in 2007 moved his workshop and family to an old mill town in southern New Hampshire. This is where Walt now builds old school style motorcycles full time and still road races V-Twins.
According to Walt the main challenge of this bike was to build a motorcycle that lives through its classic design elements without being retro and still has the performance of a contemporary bike.
'Riviera' Ducati SS is powered by a 900 CC SuperSport engine which was upgraded with a big bore kit, high compression pistons, aluminum fly wheel, race cam, 39mm flat slide carburetors and fitted with a hand fabricated stainless steel exhaust tuned to the engine. In Walt's build there is no place for shortcuts, all the custom parts are hand fabricated. The lightweight chrome moly TIG welded frame was carefully constructed around the engine.
This 'Riviera' Ducati SS is loaded with jaw dropping elements, Walt tells us his favorite part is the Kevlar carbon fuel tank. "It captures the essence of early NCR and Ducati tank design, but still has a clear link to Walt Siegl"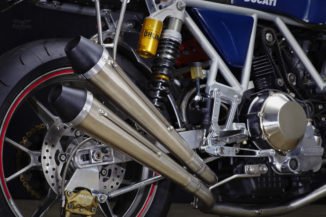 Riviera's front is fitted with the revolved Triumph 999 fork with MotoGadget tachometer/speedometer and Tomaselli clipons. The swingarm has been modified to fit Öhlins twin shock and 70 75 aluminum rear sets with Marchesini rims.
The last image shows the bench seat which Walt also supplied with the bike as a additional option.
Without a doubt Walt has created a masterpiece, an eye catching Café Racer with great details. Truly inspirational work, Walt thanks a million for taking the time and helping us with all our requests for this feature. If we are ever in New Hampshire we would love to stop by your workshop, have a drink and see more of the amazing work you do!