Moto Morini is an Italian motorcycle manufacturer, founded by Alfonso Morini in Bolonga, 1973. In the early 70s Moto Morini launched their first 72 V-twin motorcycles, designed by Franco Lambertini, and created by Franco and Gino Marchesini.
Today's feature is a blast from the past a 1986 Moto Morini 500 Sport AKA Moto Morini 3 ½. Moto Morini 3 ½ was well known for it's handling but it was low on power. Later Moto Morini released a larger version of the bike, the Moto Morini 500 Sport. This Moto Morini 500 Sport is handsome and unique, an Italian classic that is as rare as hens teeth.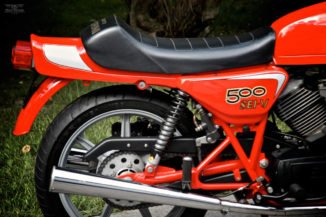 Throughout history Morini engines have been known for churning out lots of torque while delivering extraordinary fuel economy. Like the 350cc engine, the Morini 500 is a 72-degree tandem v-twin. The engine featured Heron heads, which were milled flat and the combustion chamber is recessed in the piston crown, aiding combustion and returning excellent fuel economy. The engine also incorporated one-piece forged steel crankshaft, ball main bearings (first series motors), plain big end bearings (second series motors), and the conrods run on a common pin, desaxe, and offsetting the rear cylinder to the front by 50 mm (2.0 in). Front and rear barrels and heads are interchangeable.
The 72 degree v-twin was connected to the six speed transmission with a six-plate dry clutch, making a characteristic rattle similar to Ducatis when disengaged. Secondary drive was by a 5/8 x 3/8-inch chain to a rear sprocket with cush drive. Gear change is by the right foot and the rear brake is operated by the left foot.
The frame is a full steel duplex swingarm design, with Ceriani rear suspension, and Marzocchi front forks. Morini 500 also featured Grimeca disc brakes.
The condition of this bike is amazing you can't get any better then this one, a prime jewel of Moto Morini bloodline. The bike was auctioned on eBay by Loudbikes and was sold for US $6,249.