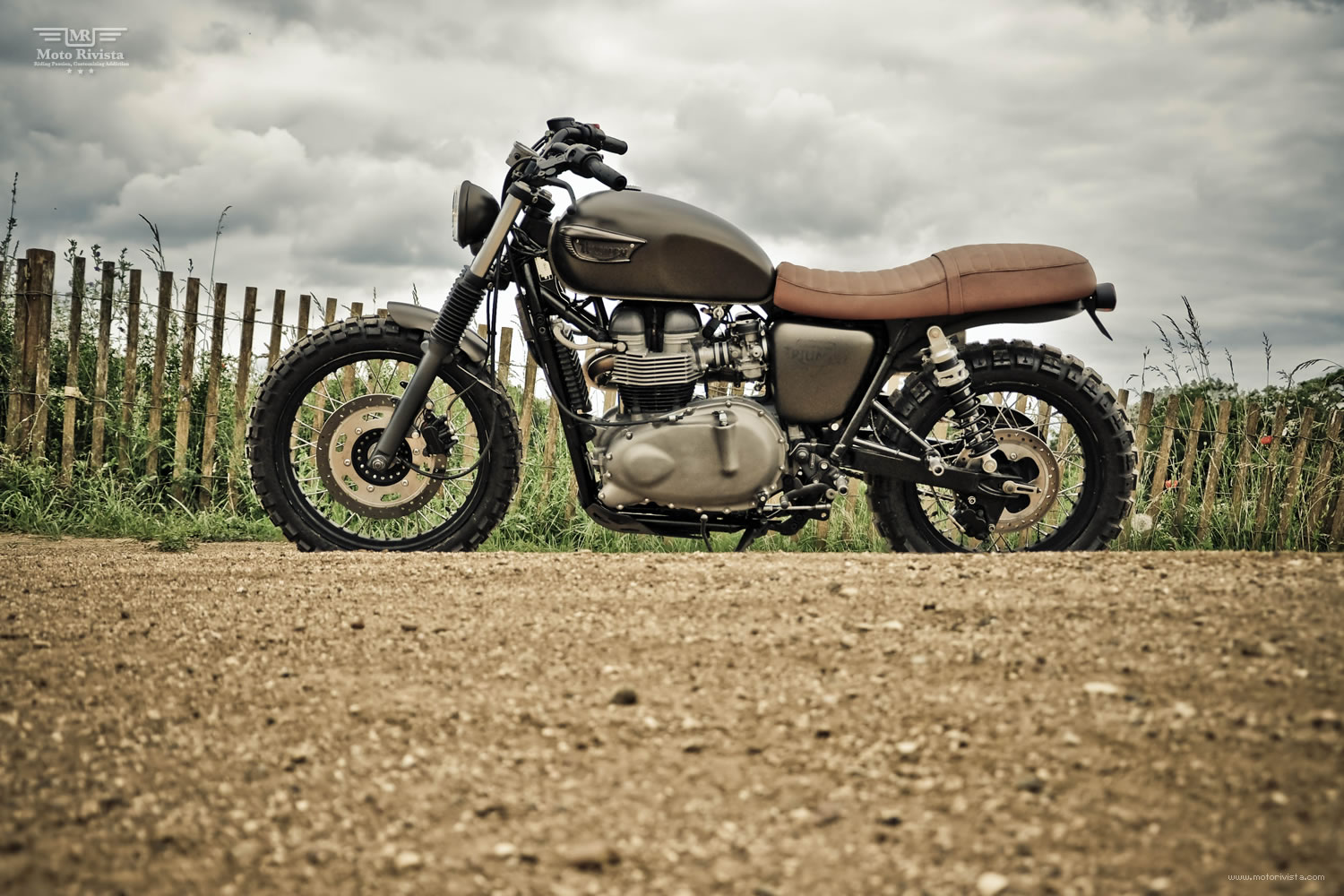 Back in the day riding your road bike on the state route was not enough. The road was like a prison and riders were ready to break into the woods and feel that true freedom.
To fulfill these needs along came the Scrambler " A motorcycle with high mounted exhaust pipes for crossing streams or muddy roads. A wider handlebar with a crossbar for extra muscle and all-terrain tires". Now this is how it was back in the day and yet to this day it's exactly the same.
In the timeline of history the first British off-road event known as the Scrambles was held at Camberley, Surrey England in 1924.
To cut to the chase, the old school recipe of the scrambler motorcycle is the source for today's feature, a custom Triumph Bonneville Scrambler. Built by French motorcycle fabricators Sebastian Guillemot and Matthew Menard of FCR.
The Triumph Scrambler is Bonneville's wild sibling, both share the same engine except the Scrambler has 270º firing interval and Bonneville has 360º firing interval. It seems logical then that the Bonneville would be the ideal choice for the base of a custom scrambler transformation.
The base for FCR's modification was a stock Triumph Bonneville, which has been beautifully tailored by
Sebastian and Matthew. The engine cover was painted in black and was fitted with a high mounted Zard exhaust. At the front this custom Triumph Bonneville Scrambler features a small headlight and a LSL handlebar. While the rear houses a custom license plate frame with rearlight, EMC rear suspension and Triumph Thruxton foot controls. The fabrication work includes modified front and rear fenders.
Other modification includes LSL ignition switch relocation brackets, custom skid plate and Evotech tank cap. Whilst the stock seat was replaced with the new one. The hub and rim of the wheels were painted in black and wrapped in Pirelli scorpion rally all road tires. This custom Triumph Bonneville Scrambler is an absolute standout from the crowd bike, all eyes on FCR's Triumph Bonneville scrambler!