The Yamaha XJ600 motorcycle is remarkable for being the first Japanese inline-4 with a displacement of 600cc. The Yamaha XJ600 was also ahead of its time; back in 1984 it featured a mono-shock rear suspension design.
The stock Yamaha Xj600 is a reasonably nimble motorcycle with top half fairing and produces around 72 bhp.  First coming to existence in 1984, the Yamaha XJ600 was later replaced with the Yamaha Diversion/Seca II. It's a shame that the XJ600's pioneered achievements might be unknown to some of it's owners. This bike may be laying in your backyard aging through time, waiting for its salvation. We don't see nearly enough custom XJ600 appearing on Moto Rivista.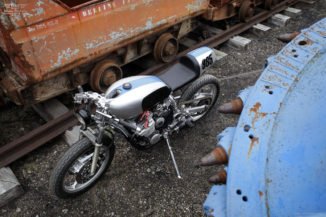 The stock XJ600 may not appeal to our generation at all. Drop it in the hands of French customizer Pimmel & Messer and what you see is one of the sexiest salvation of a custom Yamaha XJ600. Based in Northeastern France Pimmel & Messer is a custom workshop founded in 2012 by Nick & Jo, two old college friends who reconnected after a number of years and discovered they shared the same passion. For this build they located an XJ 600 in poor condition and decided to turn it into the Racer.
To begin with the build the stock Yamaha XJ600 was completely dismantled to replace the worn out parts. The stock XJ600 tank was replaced with a 1978 Suzuki GS 550 fuel tank. At the front the forks were lowered by 6.5cm and the original mono raised to 7 cm. The headlight was replaced with a vintage car fog light and the taillight is a led fitment. At the rear the bike was modified to fit Ducati SS tail unit and features a custom seat.
The wiring was simplified and the battery was relocated underneath the rear unit. The exhaust was handcrafted by Pimmel & Messer and has been fitted with a good 4-in-1 dirt bike 250 cm3 silencer. The finished Yamaha XJ600 custom was painted in a silver metal base and a blue "Evian" and deep black. The 985 numbers at the rear reflects the year of manufacture of the motorcycle.
The end result is an absolute pleasure to observe, great details and beautiful lines displaying the killer craftsmanship from Pimmel & Messer!