Imagine yourself being a passionate custom motorbike builder and desperate to turn your wildest imagination into reality but then you are told about the strict emission standards and other annoying restrictions.
What would you do in this situation? I know I would be pretty pissed off and start cursing those emission laws! But that's not the case with Matthew and Mervyn from Vicious Cycles Singapore. They have manged to kept their passion going and build their 94 Yamaha FTW200 within the strict emission standards.
According to Mervyn "The Yamaha TW200 came to us after the owner crashed it and it's front end was trashed in the accident. Here in Singapore, TWs are either stock or running a street tracker mod. So we thought, wouldn't it be nice if we made something different? Therefore we proposed a Cafe Racer idea, he loved it and wanted us to get to work on it right away.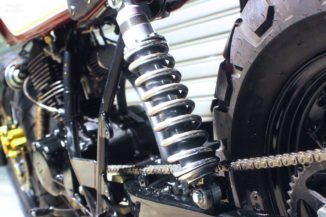 The parts put into the FTW200 were recycled or taken off mostly Yamaha's, the brakes and controls were off the WR200. The clip-on handlebars for an instance came off the FZR150. The headlamp with integrated speedometer was off a vintage Yamaha.
Older TW's came with front drum brakes so we modified another front hub and fitted on a disc brake for better braking. The rake was calculated and in order to achieve the slammed look, we had to stretch the swing arm to compensate the shorter wheelbase. Works Performance rear shocks formally on a Harley were used for the stiffer spring rate and better rebound damping. All in the name of a slammed ride with improved handling.
The fuel tank was modified using the RX-K tank components. Sides were then cut to achieve the shape we visualized. We welded on another tank base to provide the shape and the beefed up look. A custom fiberglass rear was fabricated to compliment the shape of the tank and since we wanted to keep everything neat and tidy, we made the tail lamp integrated and hid a battery in the hump.
Due to the strict emission standards and exhaust pipe laws in our country, the custom exhaust header was wrapped. A standard muffler off a Yamaha 125 cruiser was also used to keep the decibel low. Exhaust tip was fabricated for aesthetic purposes.
We kept this bike as minimal as we could and to just enjoy the awesomeness of riding a simple machine". Want to see this Cafe Racer in action? watch the video.