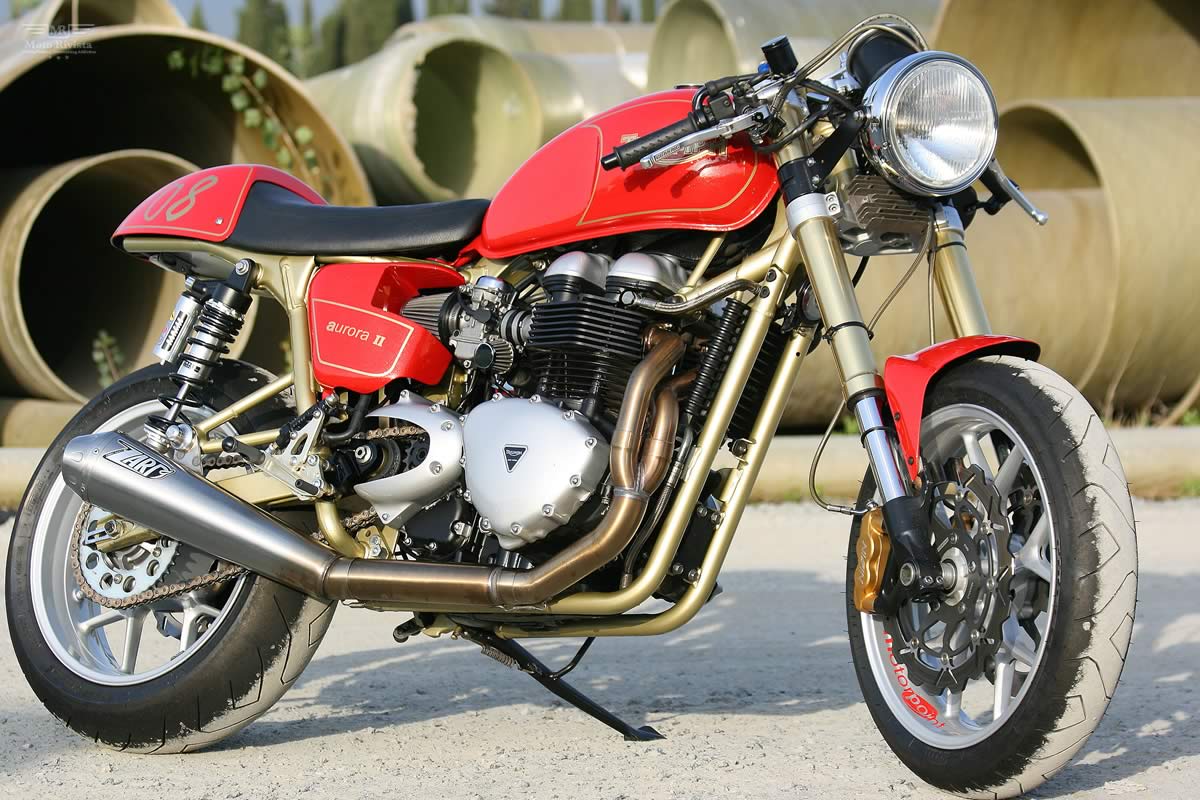 The town of Rosignano Solvay, Tuscany Italy is where Motorpoint calls home. A workshop led by Simone Donati and specializing in repairs for all scooters/bikes, transformations and the customization of Triumphs.
This little beauty is a Triumph Thruxton Cafe Racer called Aurora II and had a build time of almost 300 hours. The build of 'Aurora II' is based on the wreck of a Triumph Thruxton and parts from a Triumph Tiger. From there the Triumph Thruxton was pulled apart and the frame and swingarm were the first to be painted gold.
The engine on this Triumph has been enhanced for optical performance without damaging the basic mechanics. The bike also features British custom camshafts, carburetors, Dynojet kit, KN filters. A Zard 2 into 1 exhaust system and the exhaust pipes were polished while the intake was glazed.
In front was a transplanted front of a 1050/Speed Mixed Triumph Tiger 1050, with a top plate that houses the semi-artisan neutral and oil pressure indicators. The rear of this custom Triumph Thruxton sits on Pericles Pavesi rear suspension (Gazi) and Alcotech complete kit for the front fork. The superstructure, front fender, side panels and back cover were the work of Simone Donati's dad who also loves motorcycles, while the Fuel Tank on the Aurora II remains stock standard. The beautiful paint job was done by Tecnocar, the bike was painted in metalized red using a little 'Glitter gold' like lettering on the tank and side panels.
Its pretty exciting to be able to find such a treasure that hails from a small town!