Many of us love Café Racers and especially the old Triumph Café Racers because they have always been a part of something very special.
The 1960's saw a stream of Hollywood and home-grown celebrities riding Triumphs and establishing the marque's global cult status: Steve McQueen (The Great Escape), Marlon Brando (The Wild One), Clint Eastwood (Coogan's Bluff), James Dean (Rebel Without a Cause) and Bob Dylan (who famously crashed his Triumph, sustaining serious injuries in 1967), to name a few.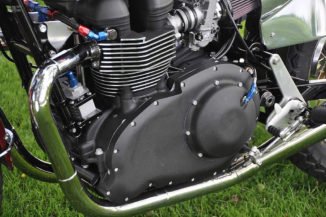 Richard Varner from Streetmaster in conjunction with Richard Pollock from Mule Motorcycles rolled into the Quail Motorcycle Gathering with their stunning Triumph Bonneville Cafe Racer and a street-tracker built with the guys at So-Cal Speed Shop. "The Streetmaster was the brain child of Triumph enthusiast Richard Varner. Richard wanted to build a prototype bike utilizing the new Bonneville twin motor, with upgraded power and a mind-bogglingly lightweight chassis. More power and less weight is always the express train to Performance City! " Mule Motorcycles.
The Brighton Café Racer features a 790cc twin powerplant which produces 74 horsepower, this is 34% more then stock standard. The engine is bolted on one of Streetmaster's proprietary frames, which rides on a stock fork and Race Tech shock. The Brighton Café Racer includes clubman bars, rounded an triple-clamp and beautifully crafted aluminium fuel tank painted in Amaranth Red. Our personal favourite on this motorbike is the interesting Grimeca 4-leading shoe front drum brake, which is powerful enough for emergency braking!