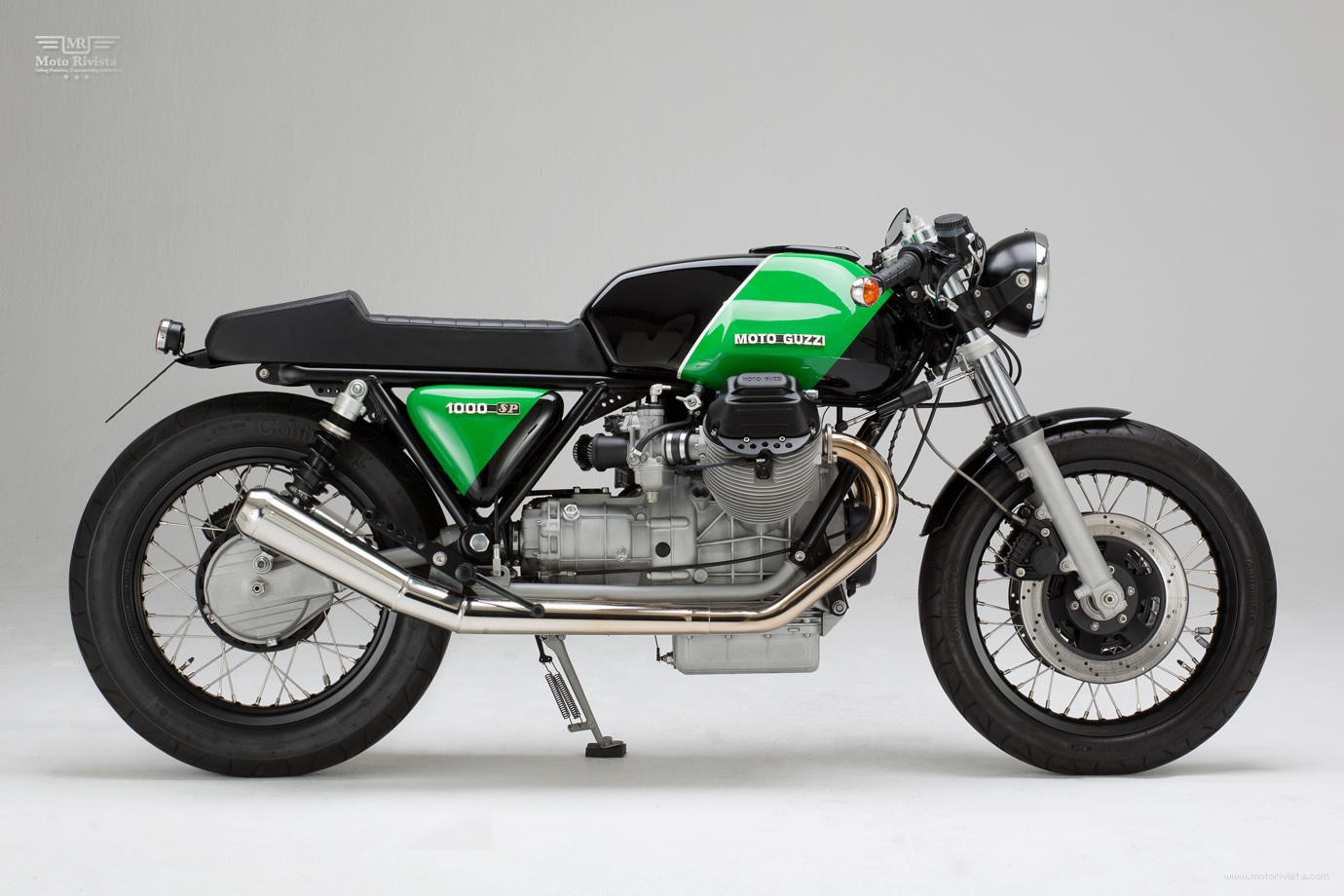 The first step to becoming pilot is getting the hang of G-Force on the ground, and to do that you would need a motorcycle. Not just any motorcycle, you will need this specially tuned kaffeemaschine Moto Guzzi SP packed with classic umph.
Now take it to the track and drag those knees on the corners, you are now ready for the next level of G-Force. Obviously I am just kidding about this being the first step to become a pilot, but it is interesting to note many pilots are also motorcycle riders. A survey on BackCountryPilot.org revealed that 85% of the pilots surveyed also ride motorcycles.
Kaffeemaschine's number 9 build is based on a 1978 Moto Guzzi SP. To begin with the build the stock Moto Guzzi SP bike was totally stripped. The engine, transmission and drive train was rebuilt new with 1000ccm cylinders/pistons, a lighter one disc clutch and wider intakes with 36mm Dellortos. The stainless exhaust and aluminium parts are handmade. The frame of this custom Moto Guzzi SP was shortened and modified to carry the seat pan.
The tank is from a Moto Guzzi LeMans 2 and the wheels are XS Performance with stainless spokes. According to Axel " I wanted to build a relaxed bike with a moderate seating position and therefore decided to leave the original integral brake system- this means the foot pedal brake operates one front disc and the rear disc – very cool. That goes well with the elaborate, fully adjustable suspension- Wilbers suspension in the rear and a Yamaha fork, which I modified a lot to maintain the classic look."
Electrical modification on this Moto Guzzi SP includes a Motogadget instrument fitted underneath the tank. The space within the frame was filled with a "glove box", a bag behind the side covers, built by Axel's upholstery specialist Alex (www.weitgehendgar.de), who also did the beautiful seat, too.
I am not about to dismiss my aviation dream but to be honest this classic custom Moto Guzzi SP can tame my adrenaline rush easily.