The Fastest M1NSK is the ultimate transformation of a small single cylinder 125cc MMVZ, crafted by Yuri Shif Custom from the Republic of Belarus.
Located in Minsk Russia, M1NSK Motorcycle is a Russian motorcycle manufacturer also known as M1NSK-Moto. The plant was founded in 1945 and initially made bicycles with the first motorcycle production at the plant in 1951. The M1NSK plant survived the crash of the Soviet Union and has continued motorcycle production for more than 60 years now.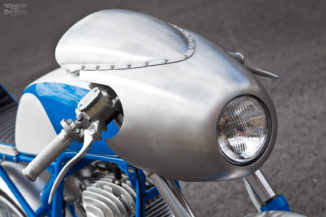 Yuri Shif  was commissioned to build this motorcycle for a private Belarus client. The base for the build was a 1988 M1NSK MMVZ 3.227, which has been modified beyond my comprehension.
The M1NSK MMVZ 3.227 powerplant has gone through a major overhauling and has been tuned for superior performance. The modified engine has been fitted with a Mikuni TM38 carb and a hand fabricated exhaust.
The frame was taken from a M1NSK R250 and was heavily modified to adapt the café racer style. The front fork and the brakes were also taken from a M1NSK R250, while the wheels came from a Megelli Motard  and were wrapped in 110/80-17 tires.
At the front the Fastest M1NSK MMVZ features Yuri Shif clip-ons and a stock headlight. The footrest was lowered on frame mounts and an improved rear shock was placed for better performance.
The fabrication work includes a hand-fabricated fuel tank, a small fairing with windscreen, front fender and rear tail unit.
The Fastest M1NSK MMVZ is a fusion of the past and present, packed with sturdy aesthetic elements making this Café Racer an absolute pleasure to ride and observe. This bike is like a MIG fighter jet ready to blast off on the road circuit race!