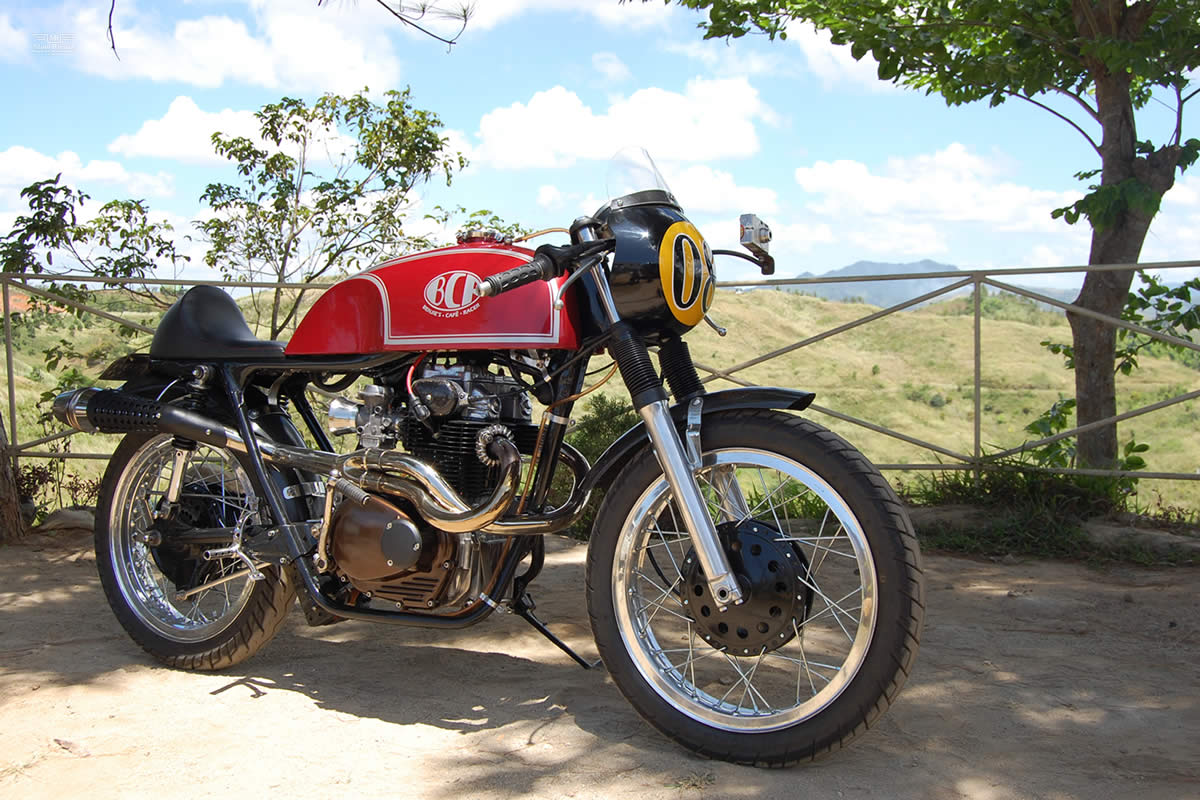 Benjie's Café Racers was founded by a builder with great artistry, Benjie Flipprboi. Benjie's Café Racers is all about vintage café racers and goes beyond the borders, creating vintage café racers out of old Japanese and British motorbikes. Benjie's bikes are very different from other builders, with each of his bikes having an authentic BCR flair.
The only thing purchased is the bike, every thing else, gas tank, seat, bars and most of the other parts are hand fabricated by Benjie himself. Vintage bikes have much more style and panache then any modern day motorbikes, and for that fact most of the vintage motorbike builders are driven by the same passion.
The 'El Poquito' or 'little one', started out as a 1969 Honda CB350 twin runner with high bars, cracked intake boots and open straight pipe. "The old CB350 leaked gas and oil every where, just like an old vintage classic bike" says Benjie. "Originally we were just going to make a café style seat and bars, paint it black, slap some checkered stripes on the tank and put café on the side covers and then call it café." Says Benjie. Since it's been done so many times Benjie and his team decided to do something different with a bit more originality and go the extra mile, rather then just doing some small tweaking.
The BCR team was not sure about doing a café racer out of the CB350 because of the small displacement, but after spending some time looking at it they saw the potential which they later turned in to a little monster 'El Poquito' (the little one). 
What Benjie planned for this bike is something simple and light. A motorbike that looks like a vintage road racer/café racer and has bolt on parts.
The engine was small so Benjie's team decided to make this bike as light as they could, giving the bike a bigger and more aggressive look. To add that aggressive look to the bike BCR designed a tank, which was stretched and narrow and had knee indents too. The short and simple seat gave the bike a stretched look. Stainless steel clip-ons to give the bike a more vintage look with better angle. To give the bike a lower center of gravity the battery was relocated near the swing arm. The rear sets were mounted at the old passenger pegs location and meant less work for the BCR team while being position perfect with the stretched tank. The CB350 frame received some detail work from Benjie's team, which included drilling, cleaning up, re-welding and some powder coat treatment. For the exhaust the boys at BCR decided to make a high side 2 into 1 with trap disc silencer and dummy pea tip. The final touch to the exhaust was BCR fabricated a drilled Swiss cheese head shield and powder coated it matte black.
The most exciting part of entire build is the paint job, BCR decided to use a wine vintage red and outlet it with double silver pinstripe, and the BCR logo in the center. To keep that vintage theme the seat was wrapped in black vinyl with red stitches to match the tank. The fenders were made out of carbon fiber to make it stand out but still being dark enough to not drive attention from the tank.
At the end what we have is the Little Monster 'El Poquito', which grabs your attention every minute you will see on the streets. A fantastic piece of art from BCR. We will be sure to add more motorbikes from Benjie's Café Racer soon.